Cappadocia, Turkey, is a beautiful landscape that is truly a dream. Discover moon landscapes, underground hotels, and hundreds of hot air balloons flying in the golden sky. Every experience in Cappadocia is lovely, whether it's climbing between rock formations, riding a horse at sunset, or lying down under the cover of stars. This will be a bucket-list vacation full of unforgettable experiences that will stay with you for the rest of your life. So, why are you waiting to apply for a turkey visa online and pack your bags now and fly?
Welcome to Cappadocia, the Land of Magic!
Cappadocia is situated in the central part of Anatolia, one of Turkey's, if not the world's, most beautiful places. Cappadocia is known for its unique landscapes, including mushroom-shaped rock formations and deep valleys formed over time by volcanic activity and weathering.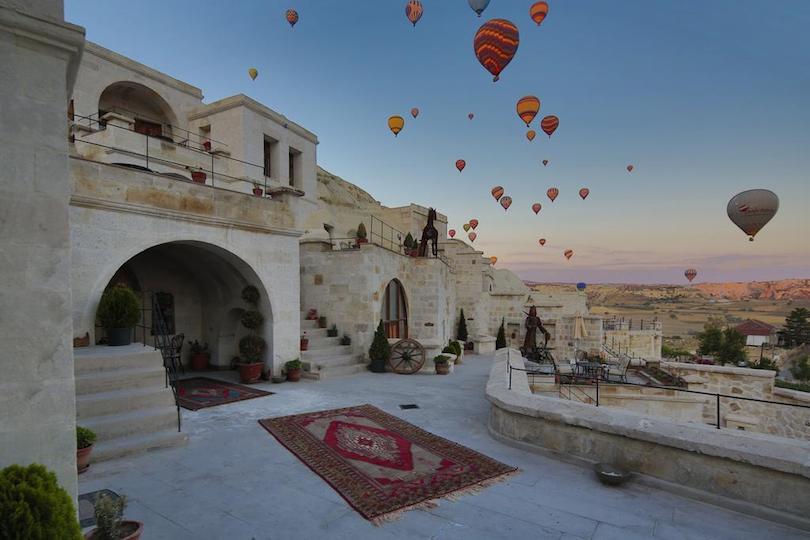 It's hard to imagine that nature can create such fantastic beauty, which has been compared to the moon by many! Over hundreds of years, the inhabitants of this region have built houses, churches, and underground villages out of the rock that nature has given.
1. Experience a Cappadocia Hot Air Balloon Flight
The favourite thing to do in Cappadocia is to take one of the world-famous balloon rides. Hundreds of hot air balloons in a rainbow of colours fly across the sky above the fairy tale landscapes in a spectacular show.
Most travel agencies will pick you up from your hotel at 5 a.m. and depart at 5.45 a.m. to see the sunrise. Because this is a once-in-a-lifetime opportunity, it may be rather costly. Typically, tickets cost upwards of $180. They do, however, usually include brunch and champagne. What's more, you can't put a set price tag on a bucket list experience like this!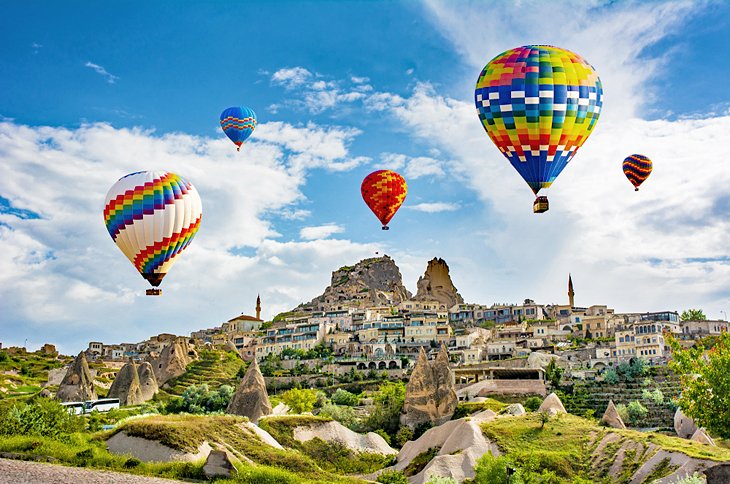 2. Sunset Horse Riding Through Rose Valley, Cappadocia
Cappadocia's moon-like image comes to life at Rose Valley. It's a 15-minute drive from Goreme and has pink-tinted granite valleys, massive rolling rock formations, and volcanoes. Cappadocia, particularly Rose Valley, is known for its one-of-a-kind landscapes, making trekking and horse riding enjoyable.
You have a lot of possibilities if you want to go horse riding. The 2-hour sunset ride with The Dalton Brothers, on the other hand, is highly recommended. It's hard to top being one with nature and getting to see hidden viewpoints, which are ideal for watching the sunset.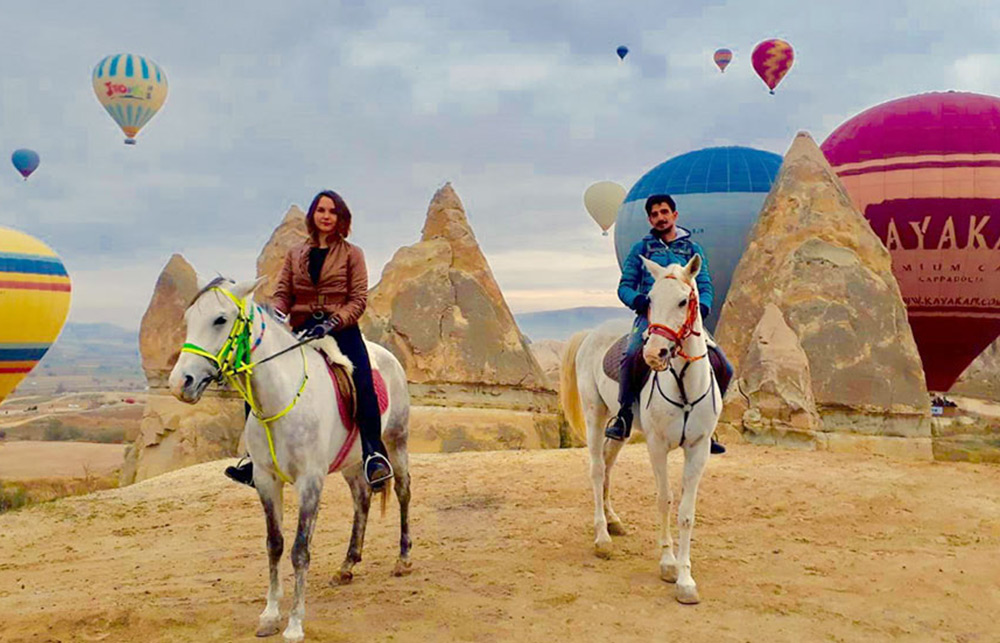 Hiking in Cappadocia
If horse riding isn't your thing, there are plenty of hiking trails to pick from. They vary in length from 2 to 10 kilometres, and you may see famous cave houses and churches along the way. There are also alternative ways to experience Rose Valley, such as quad riding if you want a bit more speed.
3. Watch the Balloons at Sunrise
Seeing Cappadocia from above is fantastic but seeing the balloons from the ground is even better! Get up early and walk to a vantage point to see the light of the balloons against the morning sky's pinks and oranges.
Depending on your preference, the hot air balloons may approach pretty close—almost touching. At one point, we had to step out of a balloon line to avoid being struck by the basket! The occasion to get up close and personal is not only a fantastic vacation experience but also a photographer's dream. It is undoubtedly one of our favourite things to do in Cappadocia.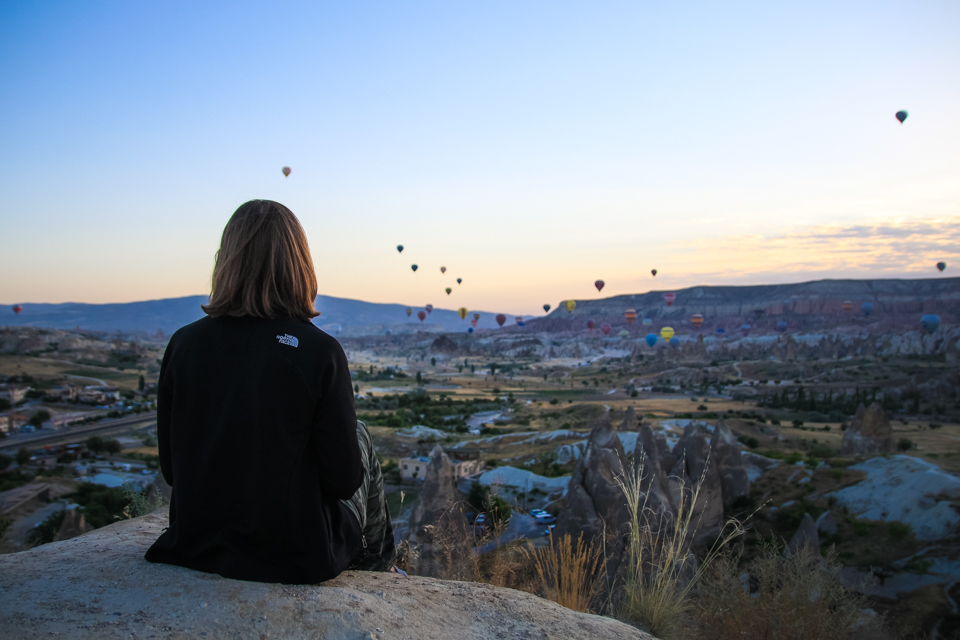 How to get to the balloon take-off site
It's best to rent a bicycle or motorbike the night before because you'll need to depart at 5 a.m. to witness the balloons take off. When you wake up, look for 'The Dalton Brothers' on Google Maps, and you'll find a road that winds through the valley's hills. Follow this for approximately 5 minutes, then pull over to the side as soon as you see the hot air balloons start to light up. As the night stars fade and the morning rises, go up as far as you can onto one of the ridges to see balloons flying all around you.
4. Pasabag and Cappadocia Open Air Museum
The mushroom-shaped rock formations live in Pasabag, also known as the 'Valley of the Monks.' These chimneys, which have big rocks that appear to balance on top of them, are sprinkled across the valley and have initially been a vital monastery colony. Several of them were cut into churches, and over 30 of them are available to the public. Get the best of your visit by going inside and even climbing to the top!
Because Pasabag is a popular stop-off on many organised tour cycles, it may get bustling. Entry to the area is free! We recommend going at sunrise if you want to view it when it's calm and take some shots without people in them.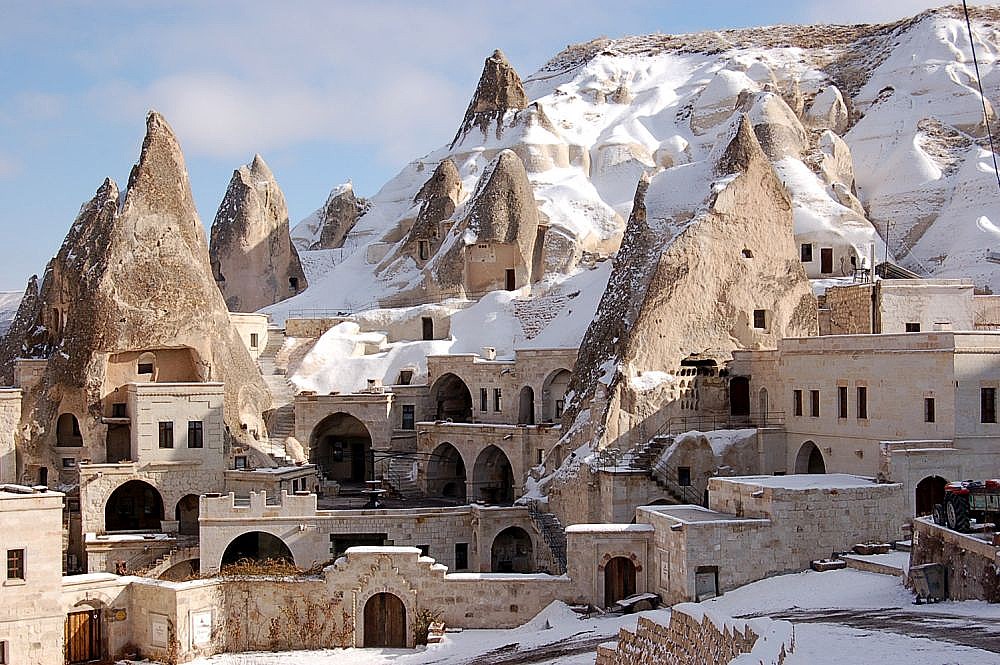 Cappadocia Open Air Museum
The Cappadocia Open Air Museum, a UNESCO World Heritage site in Turkey, is another must-see. It's in Goreme, and it's only a 15-minute walk from the city centre, so it's a pleasant and convenient place to visit if you're in town. Many spectacular churches cut into the rock with impressive frescoes painted on the walls may be found in the Open Air Museum.
6. Stay in a Cave Hotel in Cappadocia
Cappadocia's caves were carved out hundreds of years ago and used by people and monks as homes and churches. These rock houses have since been transformed into hotels, allowing guests to experience life as it was for the locals. This is a once-in-a-lifetime accommodation opportunity that is one-of-a-kind.
Sultan Cave Suites was a lovely place to stay. Furthermore, they feature a fantastic roof terrace with stunning views of the valley and mountain formations.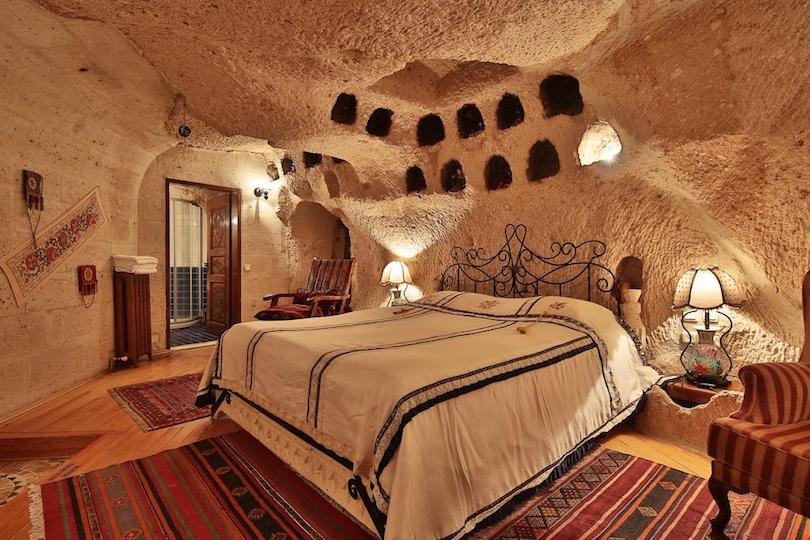 How to visit Cappadocia
When flying to Goreme, you have the option of using one of two airports in the area. The primary flight departs Istanbul towards Goreme Nevsehir Airport (1 hour 15 minutes) or Kayseri Airport (1 hour 15 minutes) (1 hr 15 min). Since many travel operators provide a package, you may book a transfer to Goreme from these airports. It's also worth checking with your hotel to see whether they provide airport transport.
If you don't want to fly, a night bus service travels from several locations to Goreme. It takes around 12 hours and is known for its smooth trip and excellent service.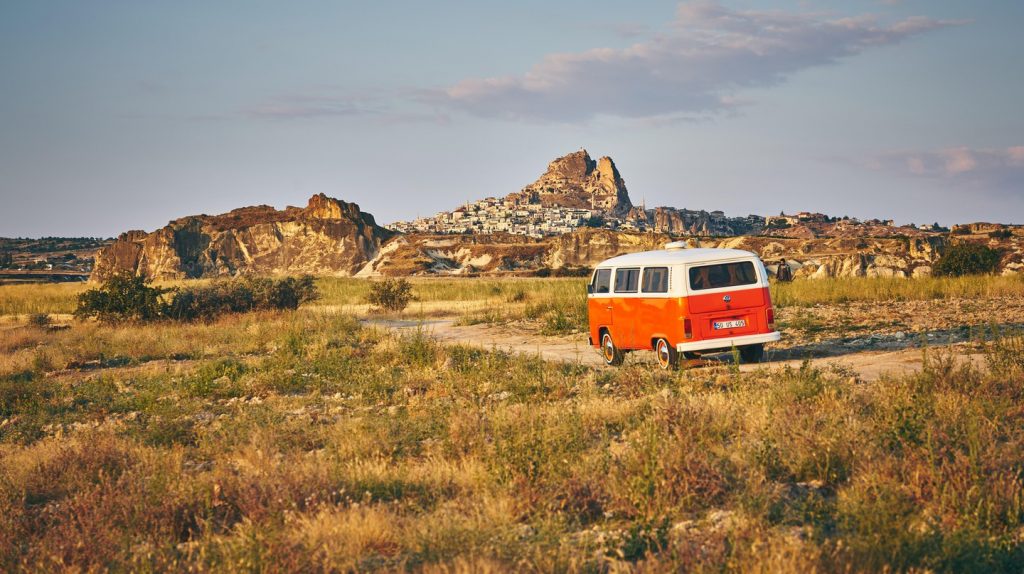 Best Time to Visit Cappadocia
Cappadocia is beautiful at any time of year, but avoid July and August due to the heat, crowds, and higher prices. With mild temperatures and lesser costs, late spring or early fall is best to visit.
Moreover, you'll notice that many people visit Cappadocia for a day trip. However, one day is insufficient to take in the ambience of this stunning location. We recommend staying for 3-4 days to walk, relax, take a hot air balloon trip, and participate in the many other outdoor activities available.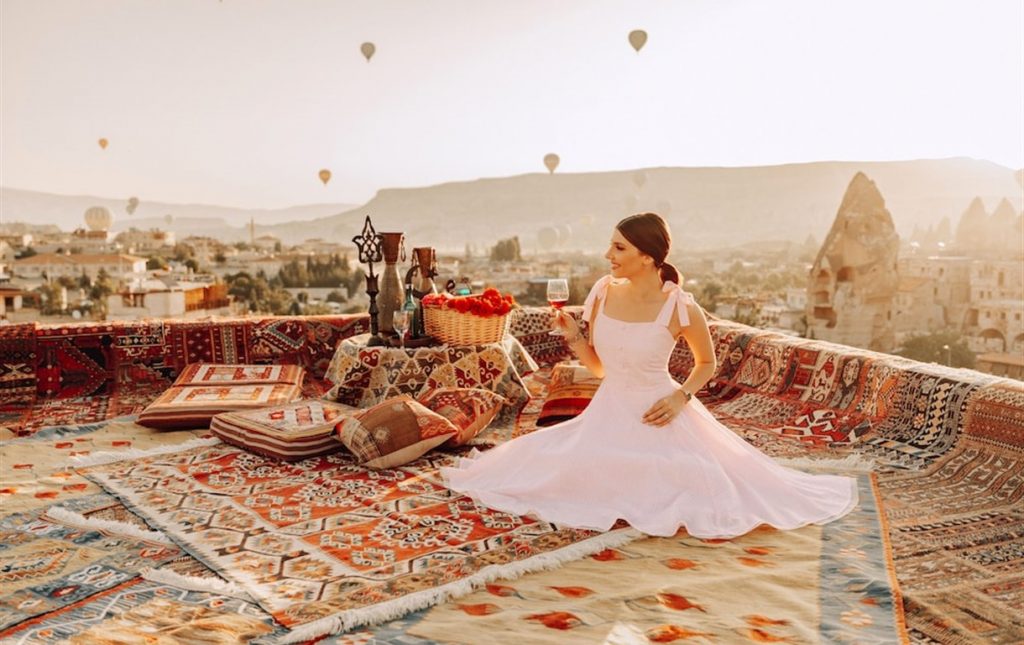 Best Places to Stay
There are several lovely towns in the area where travellers may stay. We selected to stay in Goreme since it is handy, with several excellent hotels and restaurants, and is strategically placed in too many of the city's major attractions.
The author has written many blogs on Cappadocia or its places, cave hotels, hot air ballooning, turkey e visa application and how to apply for a turkey visa.