When they think about Turkey, people frequently imagine grand mosques in Istanbul and balloons flying over beautiful rock formations in Cappadocia. However, there is another fascinating Turkish destination that mixes Ottoman grandeur with oriental flare. Then there's Bursa. So, why are you still waiting to apply for a Turkish visa online right away to explore the surrounding?
Welcome to Bursa: Ottoman Capital & Silk Road Hub
Bursa is Turkey's fourth-largest city, with over 3 million people. The town is now the centre of Turkey's automobile sector and a regional corporate centre.
Bursa's allure, however, is not limited to its modern commercial hub. Bursa, about 150 kilometres (96 miles) south of Istanbul, was a major trading city and a station on the legendary Silk Road in ancient times. Between 1335 and 1336, it served as the Ottoman Empire's capital.
Bursa is home to lively bazaars and an impressive panoply of Ottoman monuments, thanks to its past as a political powerhouse and commerce hub.
Even better, Bursa and the nearby town of Cumalikizik are two of Turkey's 18 UNESCO World Heritage sites.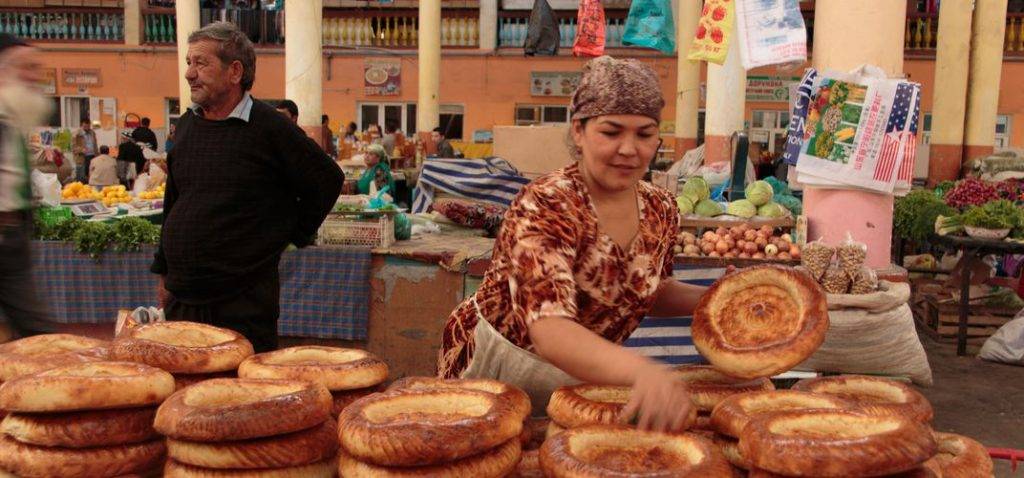 Bursa Province, located in the foothills of the spectacular Mount Uludag, is also known for its natural beauty, which makes for some fantastic day outings.
Bursa is an excellent spot to visit whether you're on a road trip or seeking some lesser-known sites in Turkey. Two or three days in the city should be enough, but I recommend renting a car and spending one or two extra days exploring the surrounding.
The Best Things to do in Bursa, Turkey
Most of Bursa's top attractions, like mosques and bazaars, are Ottoman monuments and architecture. Aside from that, the region's natural beauty and the laid-back feel of the city are two more reasons to include Bursa on your Turkey bucket list.
Here are eight of the top things to do in Bursa, Turkey.
Take in the sights from the Hisar Fortress and the Tophane Clocktower.
It's often a good idea to start visiting a new city by taking in some panoramic views.
This is where the Hisar Fortress comes in. The stronghold, located in the historic Ottoman city, offers breathtaking views over central Bursa, the Grand Mosque, and the surrounding mountains.
The oldest part of the city, Hisar (Citadel), dates from the 14th century. The majority of the region was damaged by the earthquake in 1855. The Ottoman structures were reconstructed, including some of the most beautiful residences.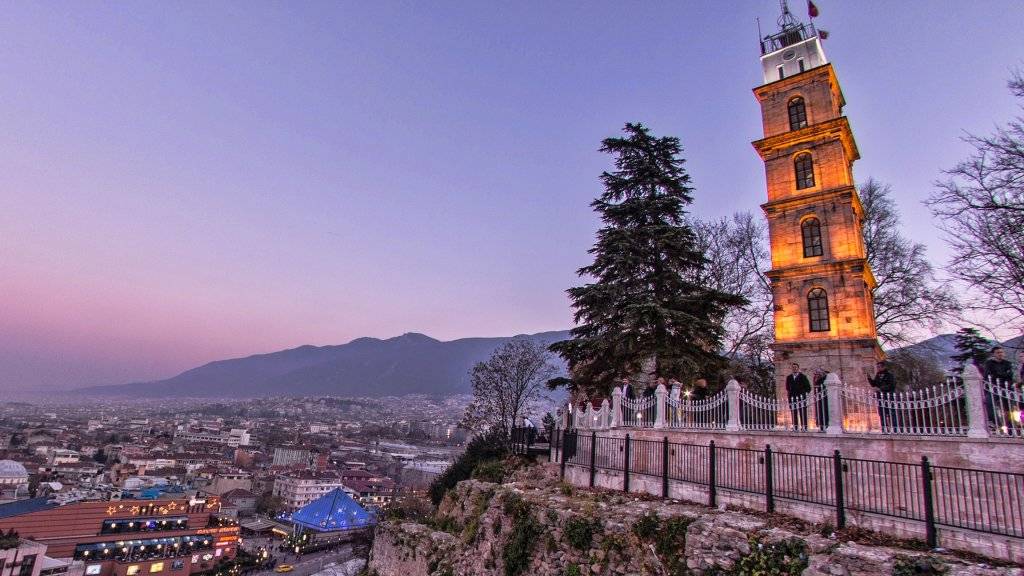 The mausoleum of Osman, the Ottoman Empire's first sultan, is also housed in the fortress. Finally, a quiet tea house with lovely views of the city and the well-known Bursa Clocktower can be found here.
Take in the grandeur of Bursa's Grand Mosque.
Each trip to Bursa should include a stop at Ulu Camii (Bursa Grand Mosque). Ulu Camii, built-in 1399, is one of Turkey's most beautiful mosques.
There are 20 domes and two minarets in the complex and beautiful wood carvings and calligraphy on the inside.
The Grand Mosque is a magnificent example of Seljuk architecture and one of Bursa's top attractions.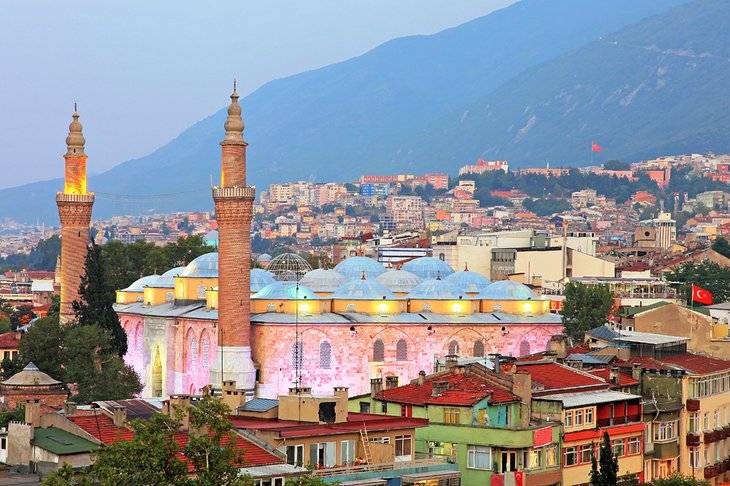 At the UNESCO World Heritage Bazaar, get a feel of the Silk Road.
The city's bazaars are undoubtedly among the top things to do in Bursa.
The old "Silk Road," commonly regarded as a network of trading routes between China and Europe, had a significant impact on Bursa.
The Ottoman Silk Bazaar (Koza Han) and its neighbouring markets have been fully rebuilt. They tell stories of caravans and traders bringing unique items from remote regions, sending you back hundreds of years.
The bazaars are among the top Bursa attractions, with real tea houses and beautiful restaurants, and are far less touristic than their Istanbul counterparts.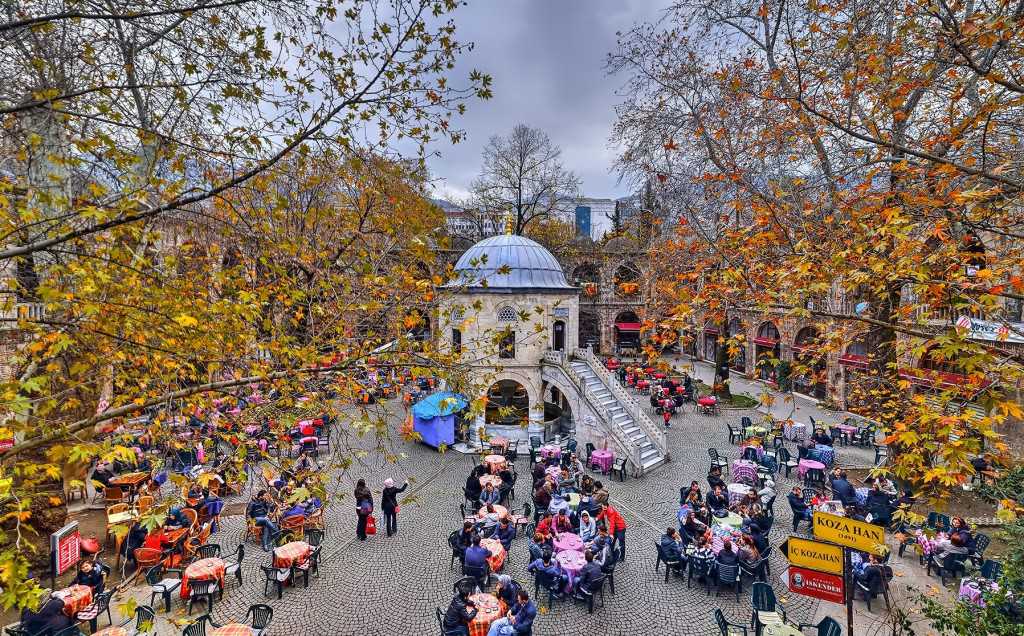 Explore the Green Mosque and Green Tomb
Don't miss the beautiful Green Mosque (Yeşil Camii) and Green Tomb (Yeşil Türbe) in Bursa.
Both buildings are part of a bigger religious complex in the Ottoman centre's eastern region. Sultan Mehmet I, who ruled from 1413 to 1421, had them built, and the Green Tomb presently holds the sultan's tomb.
The exquisite green tiles that adorn the mosque and tomb are what give them their names. Both are in excellent shape and are a significant tourist and local attractions in Bursa.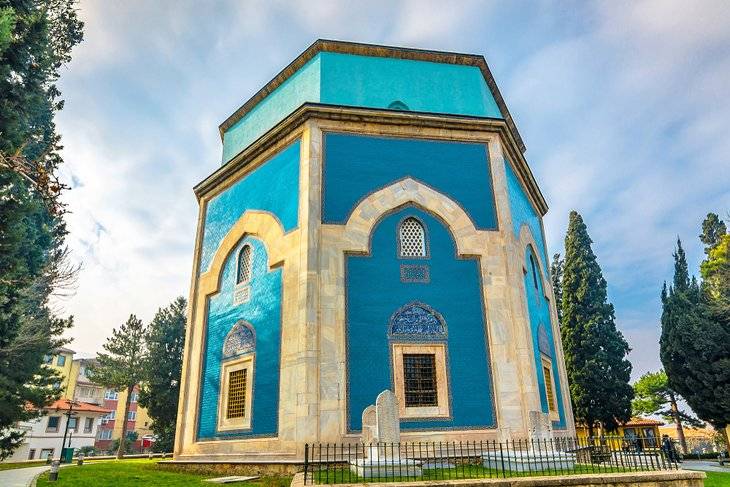 Wander Around Muradiye Complex
Muradiye Complex is one of the most incredible spots in Bursa if you're seeking a peaceful, peaceful atmosphere. The site is an excellent spot to admire early Ottoman buildings and have a quiet stroll, with multiple Ottoman mosques, mausoleums, a tomb, and green gardens.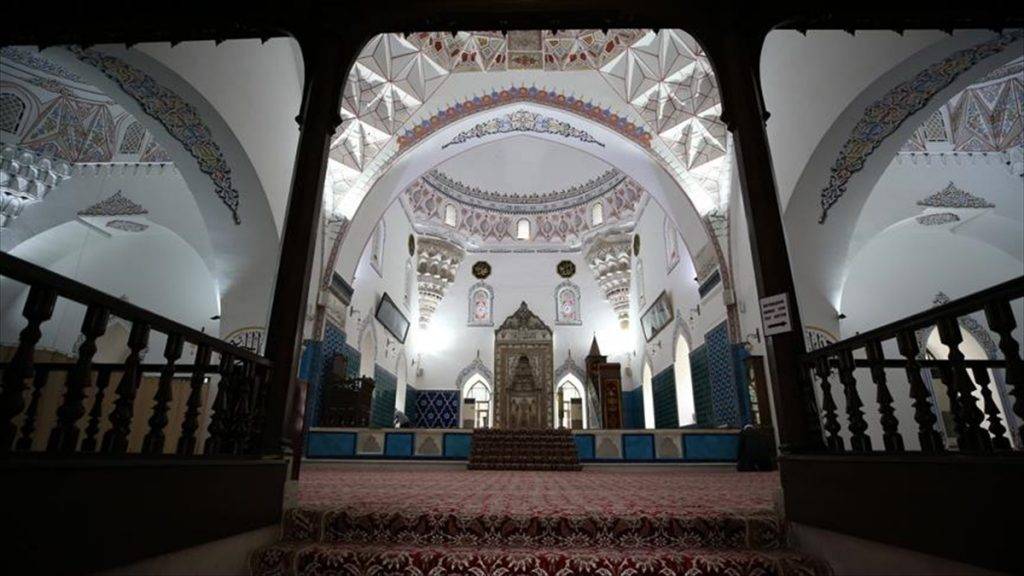 Check out the Historic Irgandı Bridge
According to several locals, Irgandi is one of only four bridges in the world with businesses. That assertion is false, but one thing is sure: there aren't many mediaeval bridges left.
At the request of a wealthy merchant, Irgandi was built in the mid-15th century. The bridge has been destroyed and rebuilt several times, most notably during the 1855 Bursa Earthquake and the Turkish War of Independence (1922).
Like the Ponte Vecchio in Florence, Italy, the bridge is now one of Bursa's most iconic locations and still houses traditional shops.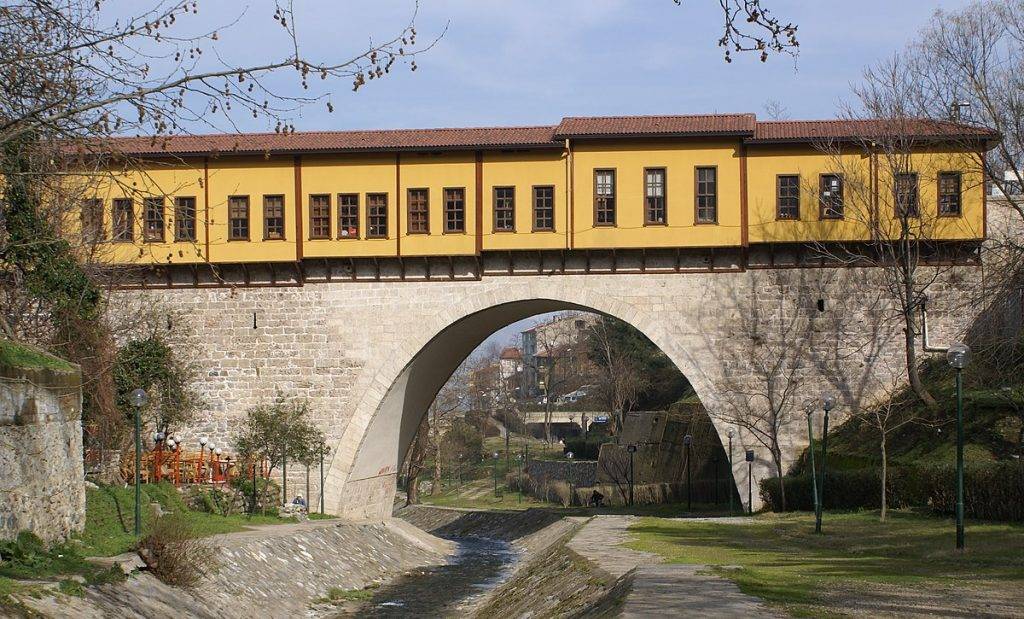 Enjoy Some Tea at a 600-Year-Old Tree.
Visit the inkaya Historical Plane Tree in Bursa if you're seeking a unique tea house.
The tree is almost 600 years old and stands 37 metres tall (121 feet). As a result, it appears like something out of Lord of the Rings, and its tea house is a peaceful spot for some Turkish çay. It's a popular hangout for locals who come up on weekends, so expect crowds.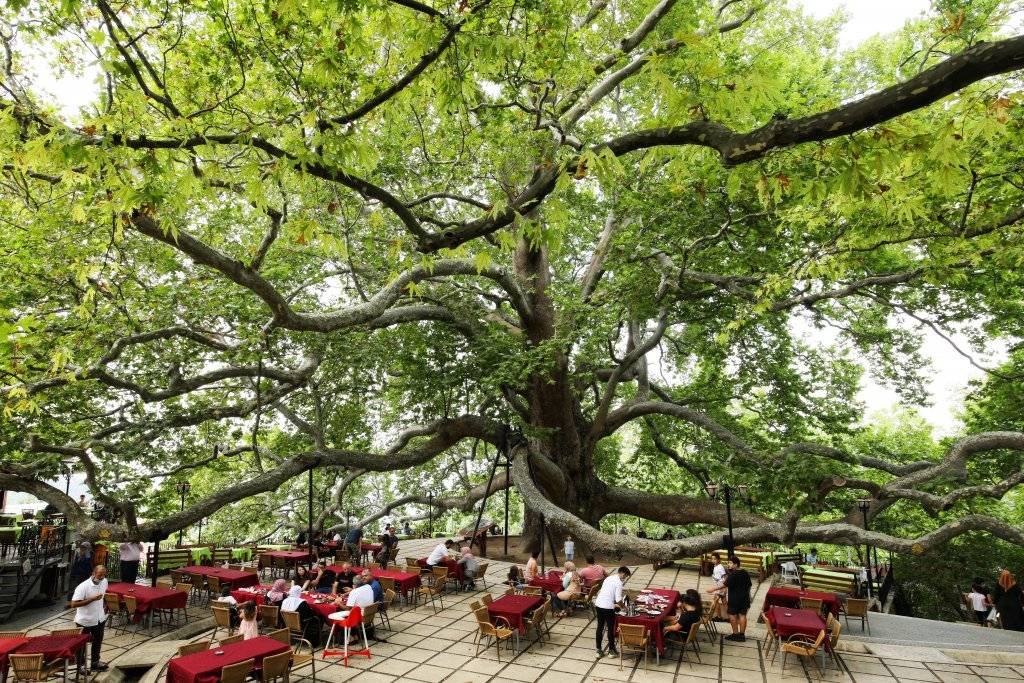 Enjoy Some Delicious Turkish Cuisine on the River
If you're looking for authentic Turkish cuisine in Bursa, go to the neighbourhood around Setbaşi Bridge in the ancient Ottoman city. This area is home to various restaurants, coffee shops, and pubs, many of which serve delicious kebap and other Turkish delights.
Because Bursa is a conservative city, most restaurants and cafés do not provide alcoholic beverages. La Bella Bar is a famous area in the old centre if you want to drink a beer or sit by the river.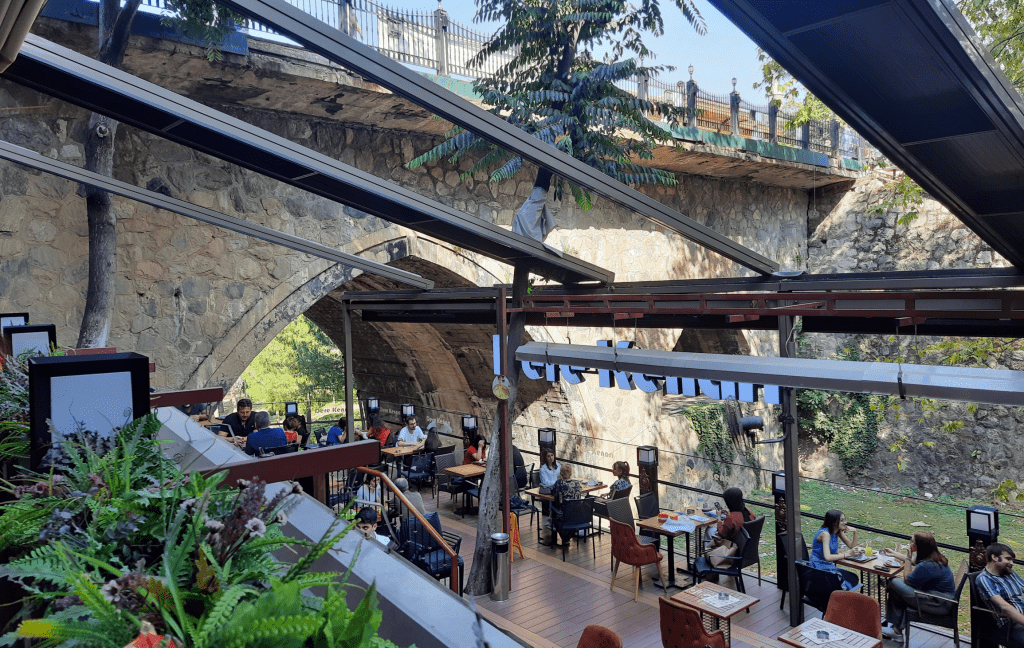 Take a Day Trip to Cumalıkızık, Lake Uluabat, or Mount Uludağ
Bursa is one of Turkey's most underrated tourist destinations, but its surroundings are appealing.
Head to Cumalikizik if you're short on time. The town is around 13 kilometres (8 miles) east of Bursa, and it is part of the city's UNESCO World Heritage ensemble. It is home to many beautifully restored Ottoman village homes that today serve as markets and restaurants.
If you have more time, go to Lake Uluabat (also known as "Ulubat") and the village of Gölyazi. The lake is peaceful and genuine, with several outstanding fish restaurants. It's about 40 kilometres (24 miles) west of Bursa, so you'll need a car, and it's well worth the trip.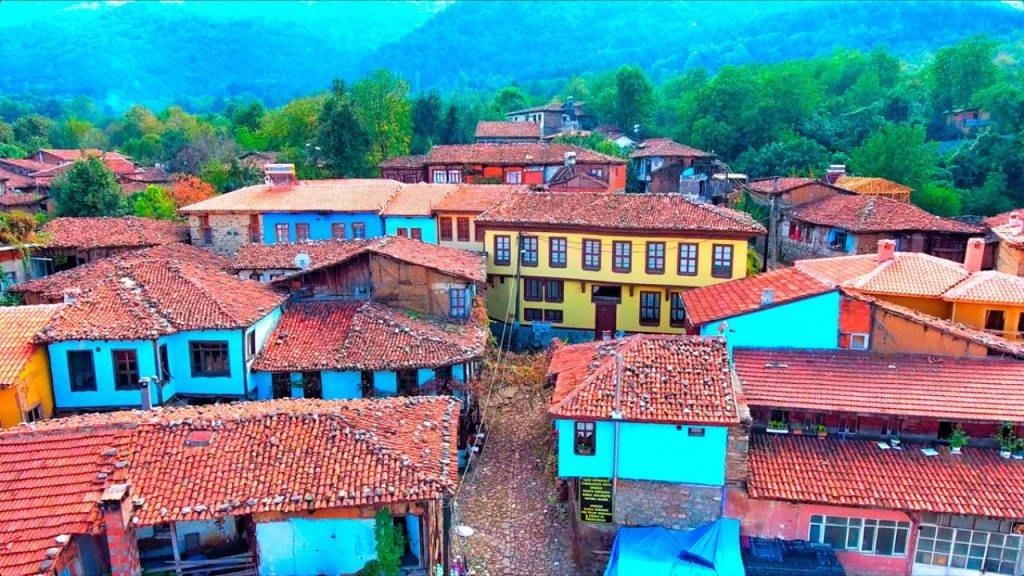 Finally, Mount Uludag National Park is one of the top things to do in Bursa for nature enthusiasts, especially if you visit during the skiing season. It may be reached by cable car from the city's southern borders.
What are the best places to stay in Bursa, Turkey?
If you're visiting Bursa as a tourist, the ancient Ottoman city is the most excellent place to stay.
If you choose a hotel or Airbnb near the Silk Bazaar (Koza Han), you'll be within walking distance of some of Bursa's best attractions. Although the city is relatively large, this district contains most of Bursa's historic attractions.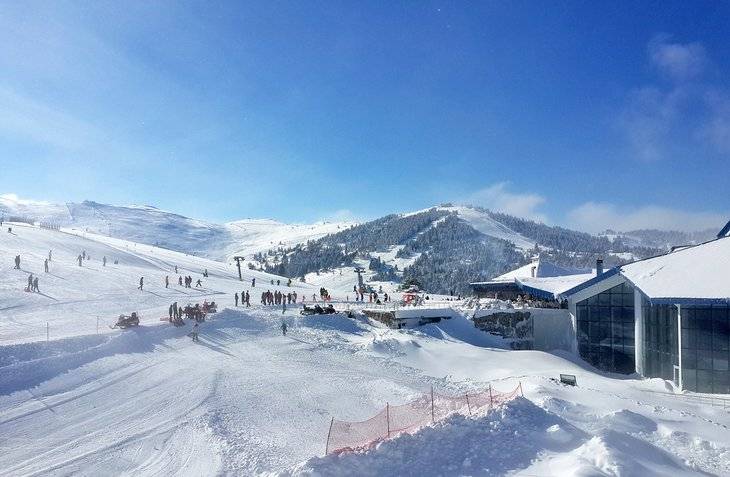 Suppose you want to explore Busra's UNESCO world heritage sites, tombs, mosques, etc. So, this is the right time to apply for a Turkish e visa or turkey e visa online.