The popularity of paragliding in Turkey is quickly increasing, and the country offers several handy places with beautiful landscapes. Pamukkale is one of the world's most recognised historical monuments and one of the most stunning paragliding destinations.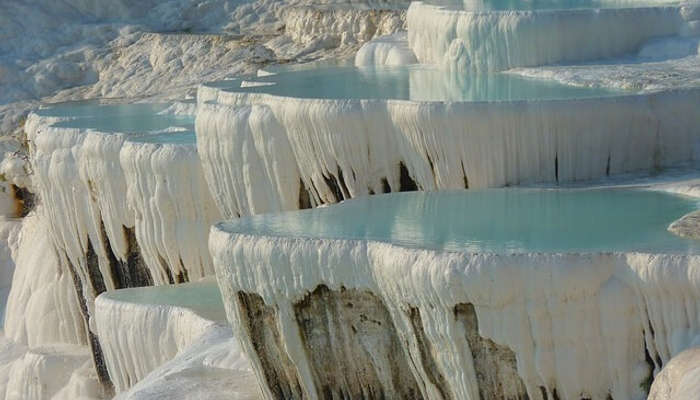 Pamukkale offers a stunning view and seeing it from above is an unforgettable experience. Enjoy extreme activities and want to see the Pamukkale travertines and the ruins of the ancient city of Hierapolis from above. Paragliding Pamukkale may be a good option for you. So, book your ticket and apply for a turkey visa online to enjoy the paragliding in Pamukkale, Turkey. Because of the moderate environment and ideal winds in Pamukkale, paragliding is a safe method to see the region from above, and it is an excellent, joyous, and unique experience. Pilots provide all required information on what to do and what not to do before paragliding, and you feel safe and comfortable following a briefing. Pilots may fly side by side, and near each other, so you can capture beautiful photographs of your friends or family in the air if you want to fly as a group or family. Pamukkale paragliding is accessible every day, depending on weather conditions. It takes 1 hour and 15 minutes in total, including drop-in and drop-off.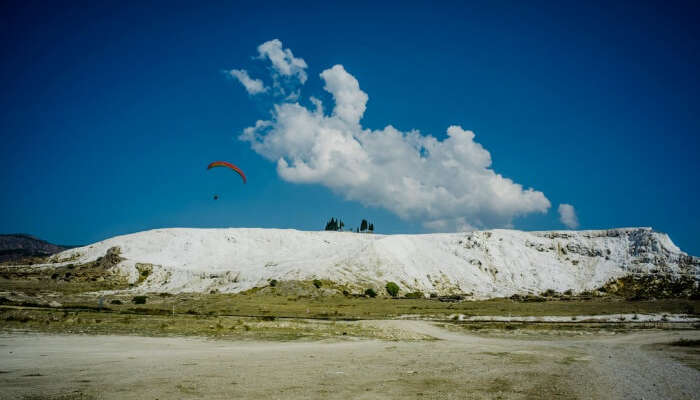 Pick Up
The Pamukkale paragliding adventure begins the moment you step out of your hotel. A luxury air-conditioned car will pick you up at a pre-arranged time and transport you to the departure location for your flight. Denizli hotels, the Denizli bus station, and the airport may all be picked up. The Transfer Vehicle will transport you to Dynamite Hill, also known as Dinamit Tepe in the area.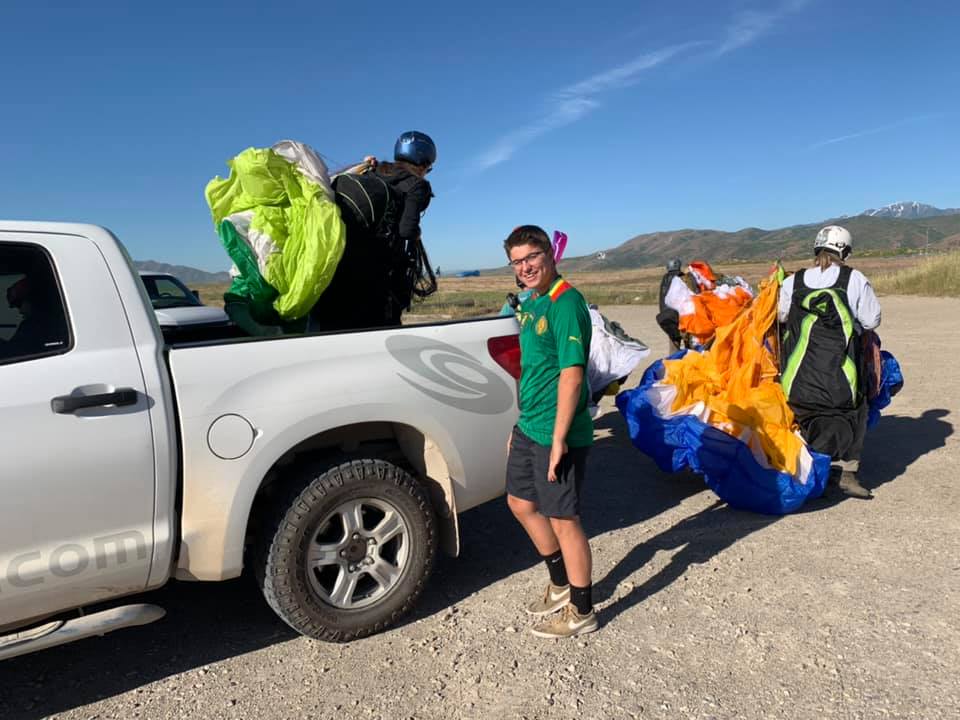 Our Pilots
Fully certified and experienced pilots lead the trip. When you arrive, you will meet the pilots and have the opportunity to ask them any questions you may have regarding the journey. It is essential to remember that a professional pilot will accompany you during the trip, responsible for ensuring that you have a safe, pleasant, and enjoyable experience.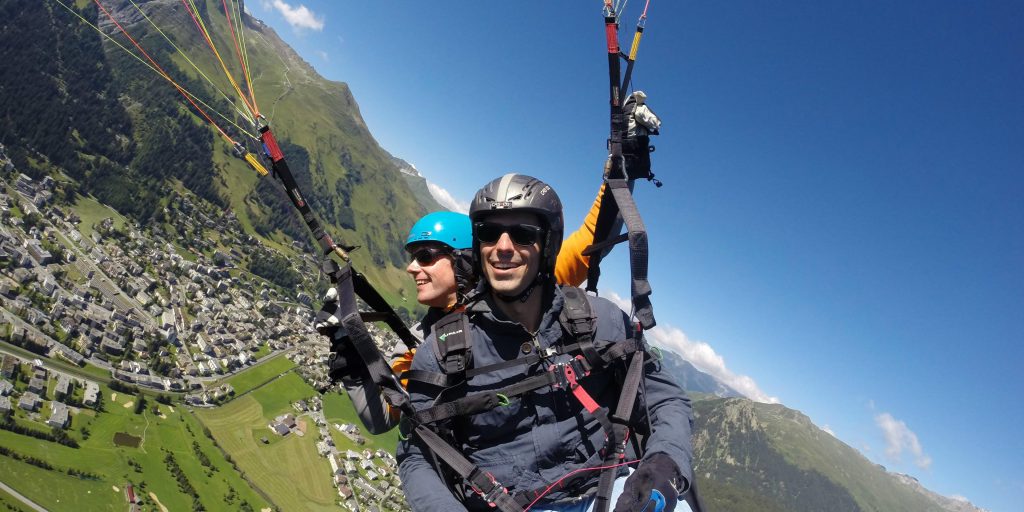 Information & Training
A comprehensive briefing from experienced pilots and instructors will take place before the trip. They will go through every detail of the flight with you. They'll also let you know what you can and can't do on the trip. The pilots will also go over all of the safety protocols in detail and demonstrate how to use the safety equipment properly. There's no need to be afraid if this is your first time mountain bike paragliding because the expert instructors will go through every aspect of what to expect during your flight.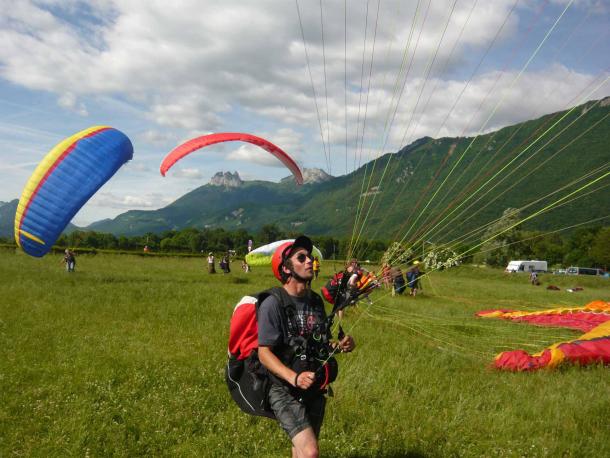 Flight
The wonderful experience begins once everything has been explained and you are ready! You'll run for a short distance with the help of a skilled pilot, and before you know it, you'll be gliding in the air. You will feel like a bird, soaring free and full of excitement, adrenaline coursing through your veins like never before. It's a thrilling experience. The precise duration of the flight varies depending on
The weather and wind speed on the day. The flight is usually between 15 and 30 minutes long. There is no engine, only the sound of the wind and the most fantastic sensation you have ever felt. After the cobwebs have been blown away and you are free of care, you may enjoy some of the most magnificent and breathtaking panoramic views of Pamukkale's most famous historical monuments. You'll get awe-inspiring vistas of Pamukkale's White Travertines, popularly known as the Cotton Castle.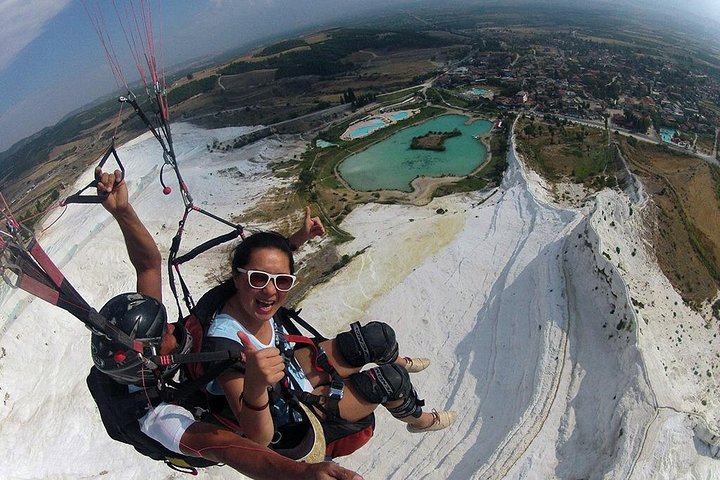 Views
A white-washed mountain with small terraces on its sides is this world-famous site. Thermal waters run through the terraces, creating the most magnificent landscape. The hot waters at Cotton Castle in Pamukkale are well-known for their therapeutic properties, and many people come to the castle to swim in the healing water. The flight provides some spectacular views of Hierapolis, the ancient city. Due to the thermal springs and persons go to this ancient city to treat themselves in the waters, this Roman city was an established, famous, spiritual, and healing centre throughout ancient times. During your flight, you'll witness the ruins of the fabled old Roman Theater as well as the Hierapolis Necropolis. Finally, you will be able to take in breathtaking views of the Pool of Cleopatra during your journey. A natural pool with thermal waters is also available in the area, widely renowned for its medicinal properties. This flight offers a one-of-a-kind combination of adventure, thrill, and scenery.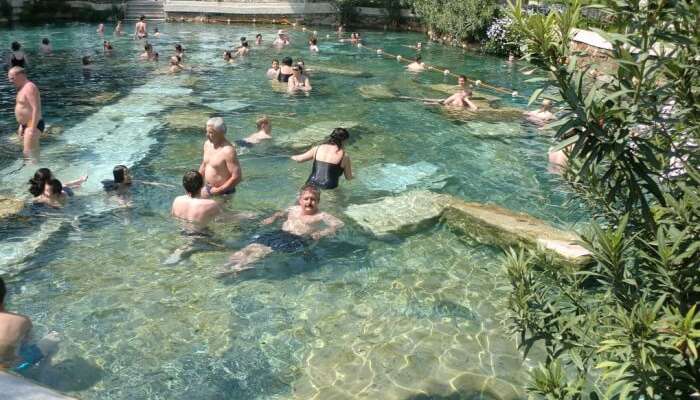 Landing
After some time in the air, you will begin to drop gently. You will be thrilled when you touch down. Furthermore, you will be justifiably pleased with your outstanding success. Your landing will take place near the Pamukkale village. A trained pilot will be waiting for you there to help you with the landing.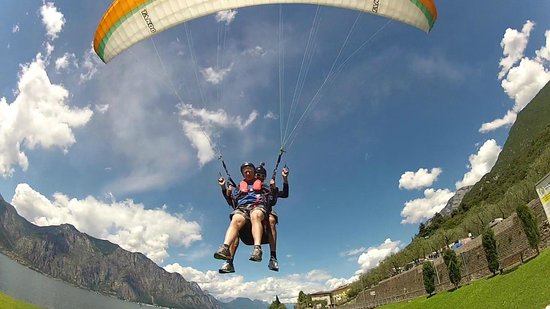 Drop Back
We will send an air-conditioner car to the airport to transport you back to your accommodation in Pamukkale or Karahayit once you have viewed your pictures. This unusual and thrilling adventure comes to a close when you return to your hotel. Still, you'll be buzzing with adrenaline, excitement, and beautiful memories for a long time, and it'll be a while before you're completely back to earth in every sense. When you return to your hotel, you will still be thrilled and full of new experiences that you will cherish and share for the rest of your life. The Pamukkale paragliding trip will make you feel free and alive, and the adrenaline rush will rejuvenate your body and mind for a long time. This will undoubtedly be a life-long and wonderful memory of your vacation in the region.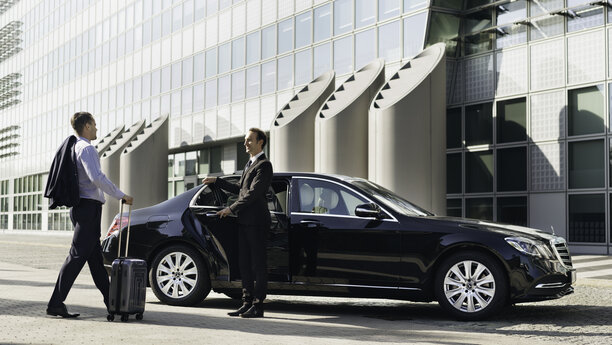 So, Hurry and apply for a turkey visa now for a lifelong experience.