Anyone with a tourism connection to Turkey has likely heard about, if not been, Cappadocia. This gorgeous place is one of a kind, having gained recognition for its unique but breathtaking landscape. The region is covered in soft volcanic rock that has been beautifully sculpted by nature over centuries and polished by humans, giving it a unique and alien look. So, why do you miss that opportunity hurry! Apply for a turkey visa online right away to explore these beautiful Fairy Chimneys, landscapes and hot air balloon rides.
It all began when surrounding active volcanoes erupted, sprinkling ash throughout the region. The ash formed into soft volcanic rock throughout time as it was subjected to ages of natural weathering from water and wind. Cappadocia's beautiful scenery was created by natural processes, resulting in valleys and distinctive rock structures like fairy chimneys and rock citadels.
Humans in Cappadocia realised they could manipulate the landscape and opted to carve churches and homes and entire villages above and below ground into these rocks. So, if you want to see this incredible landscape face to face, contact us today to apply for a turkey e visa online and schedule a trip that includes all of these attractions.
Here are 8 of the top Cappadocian specialties:
1. Fairy Chimneys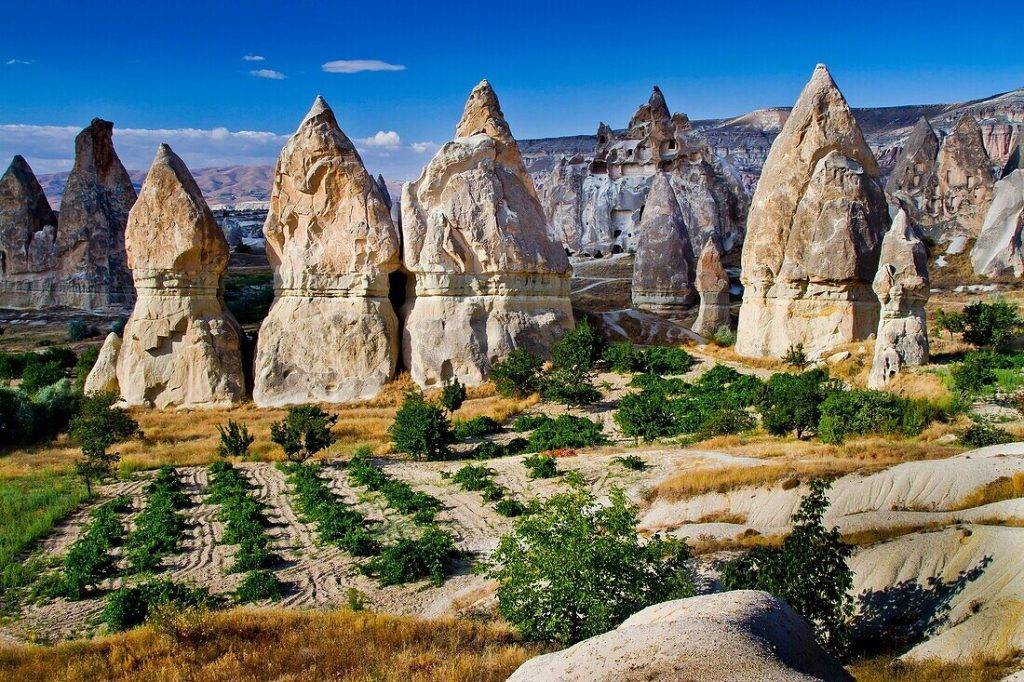 Cappadocia's most famous attraction is its fairy chimneys. After millions of years of erosion by floods and rivers, which destroyed the fragile layers of volcanic rock, these conical rock pillars formed (tuff). The tuff was coated with a layer of basalt in certain places, which is harder and thus erodes more slowly. Thousands of tall pillars with soft bodies protected by hard hats have evolved from millennia of uneven erosion.
These strange pillars, often known as fairy chimneys, may be seen across Cappadocia. Fairy chimneys come in various shapes and sizes, including mushroom-shaped, pointed, and columnar fairy chimneys. They cluster together in some spots, such as Pasabag, Rose, and Zelve Valley, generating spectacular rock forests. Urgup, Soganli, Pigeon Valley, and every other valley in Cappadocia also have fairy chimneys.
2. Devrent (Imagination) Valley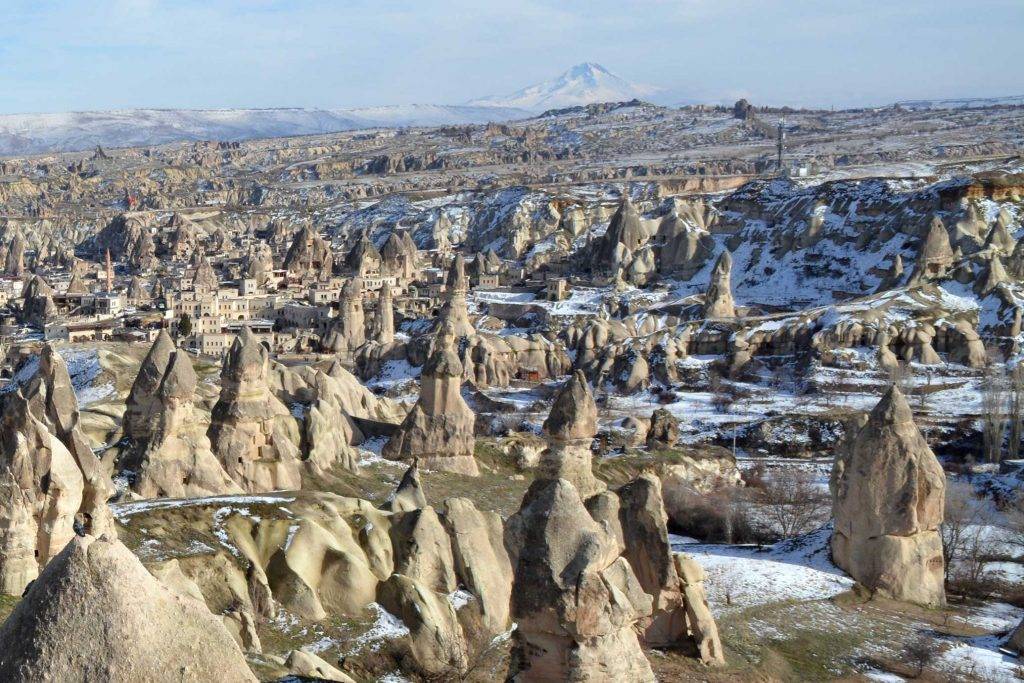 The only valley in the region that has never been populated is on the northern side of Aktepe. It lacks the cave homes and castles that attract many people to Cappadocia, but it has a plethora of stunning pink-hued rock formations created by years of erosion. Some of these formations have pillar-like structures, while others have unusual shapes. In the valley, there are also some animal-shaped rocks and fairy chimneys. The dolphin, seal, alligator, snake, and praying Mary rocks may all be found here. These interesting formations excite the mind as it attempts to figure out the shape of most of the rocks. For this reason, the valley is known as "Imagination Valley." Devrent Valley is also one of the only spots in the region where visitors may see Cappadocia's lunar landscape.
3. Mesa (tabletop mountain)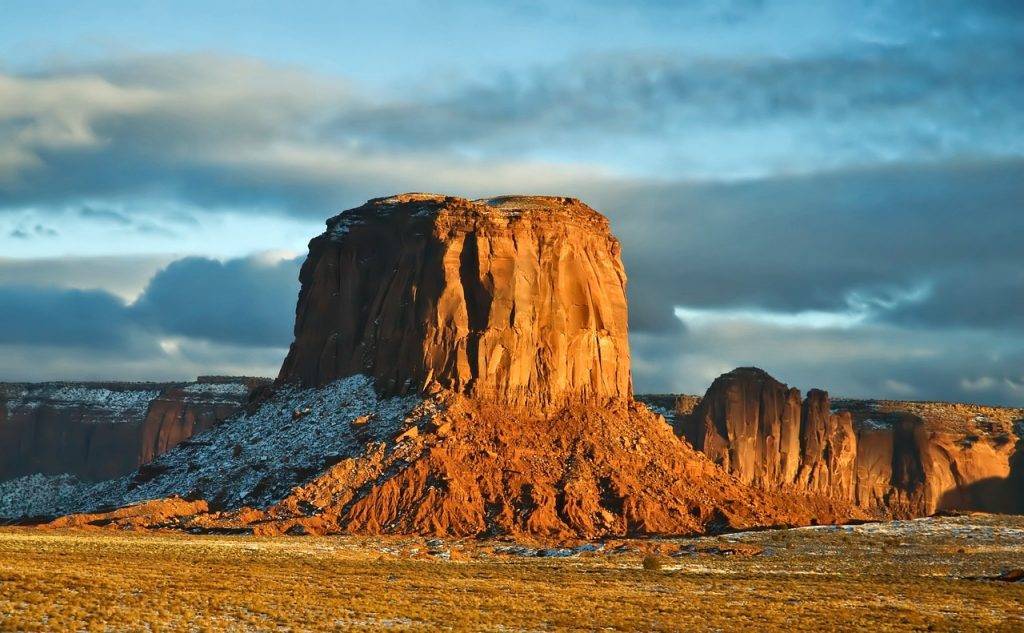 A mesa is a plain mountain, and Cappadocia has a few. Their flat tops provide breathtaking views against the Cappadocian horizon, even though they are not as tall or majestic as a typical mountain. Except for Aktepe Hill, the majority of these were river sediments. All of these mountains provide good hiking and mountain biking opportunities.
4. Uchisar Castle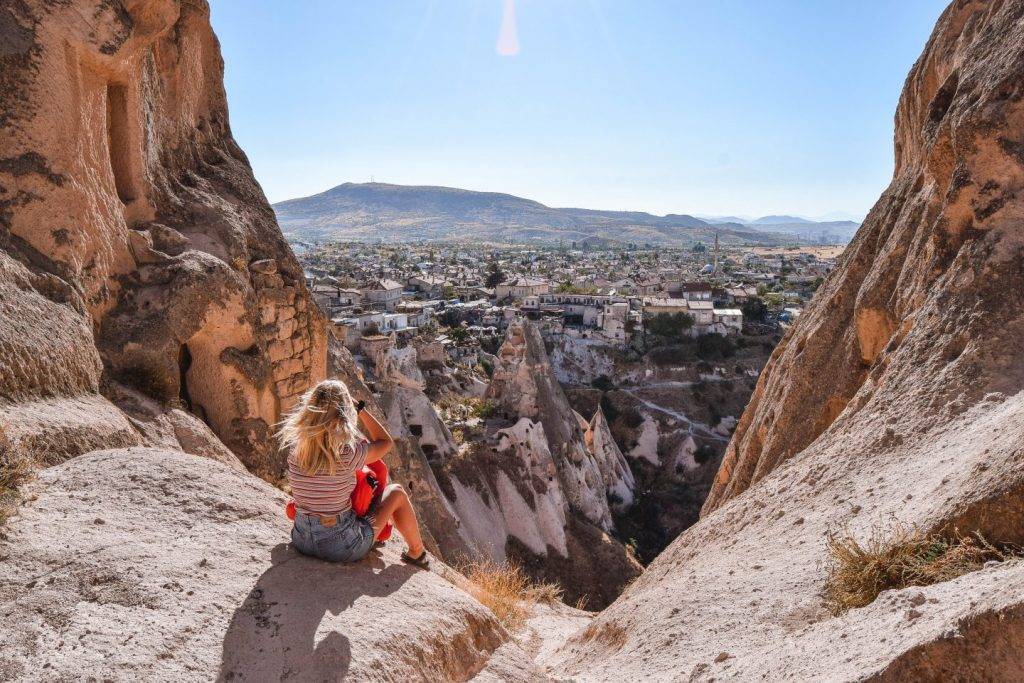 The best way to describe Uchisar Castle is to use one word: mind-blowing. This massive pile of granite, standing 100 metres (328 feet) tall, is Cappadocia's highest point, which is neither a mountain nor a hill. The little town of Uchisar, which developed thanks to the castle's protection, is located just underneath it.
According to some experts, the citadel was initially a massive fairy chimney whose top had fallen off. Humans have cut rooms into the castle thanks to the soft rock of the citadel, giving it an unusual giant wasp-nest appearance. Nonetheless, the castle is unique in that it affords a panoramic view of the whole Cappadocian area from its height.
Ortahisar is a similar rock formation. However, it falls short of Uchisar Rock Castle at 80 metres (328 feet).
5. Underground Cities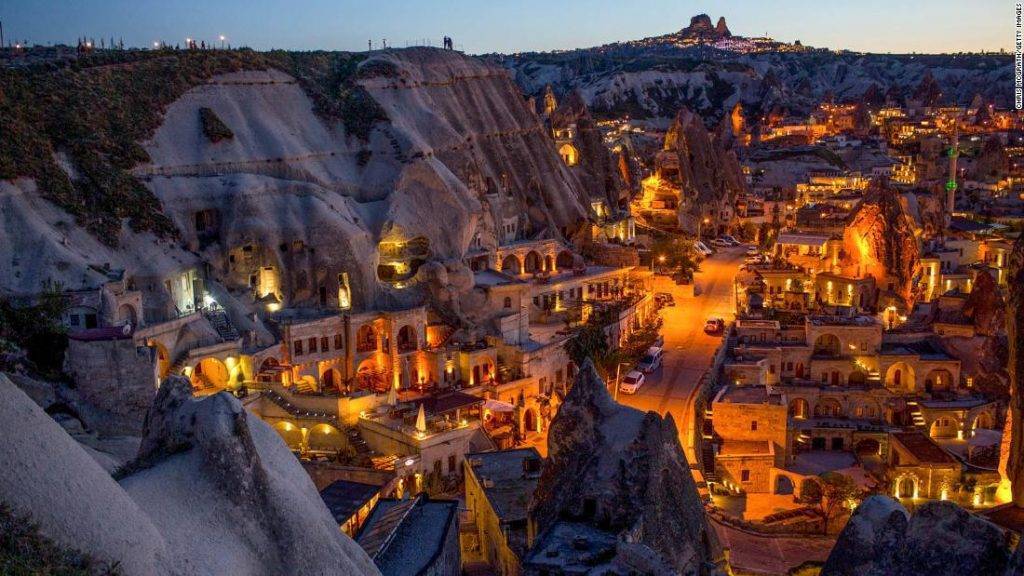 Another fascinating characteristic of Cappadocia is its underground towns, which man created. These incredible towns, according to experts, were carved out around the beginning of the Hittite period. Today, 36 towns have been uncovered, but hundreds of these buildings are thought to have been carved by ancient Cappadocians.
When the region's early inhabitants found how simple it was to chisel off the tuff layer, they opted to build enormous subterranean towns into the landscape for security reasons. Some of these towns extend 10 layers below the ground, while others stretch for many kilometres. Derinkuyu is the deepest, while Kaymakli is the widest.
6. Mushroom-shaped Chimneys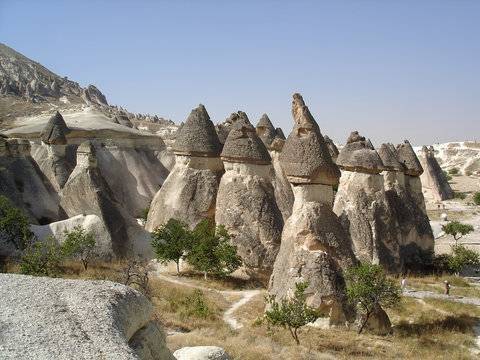 These fairy chimneys, which can be located in Gulsehir Open Palace, are among the most beautiful chimneys in the world. The only difference is that the top layer of basalt is worn into a mushroom-shaped crown, much like all other fairy chimneys.
7. Badlands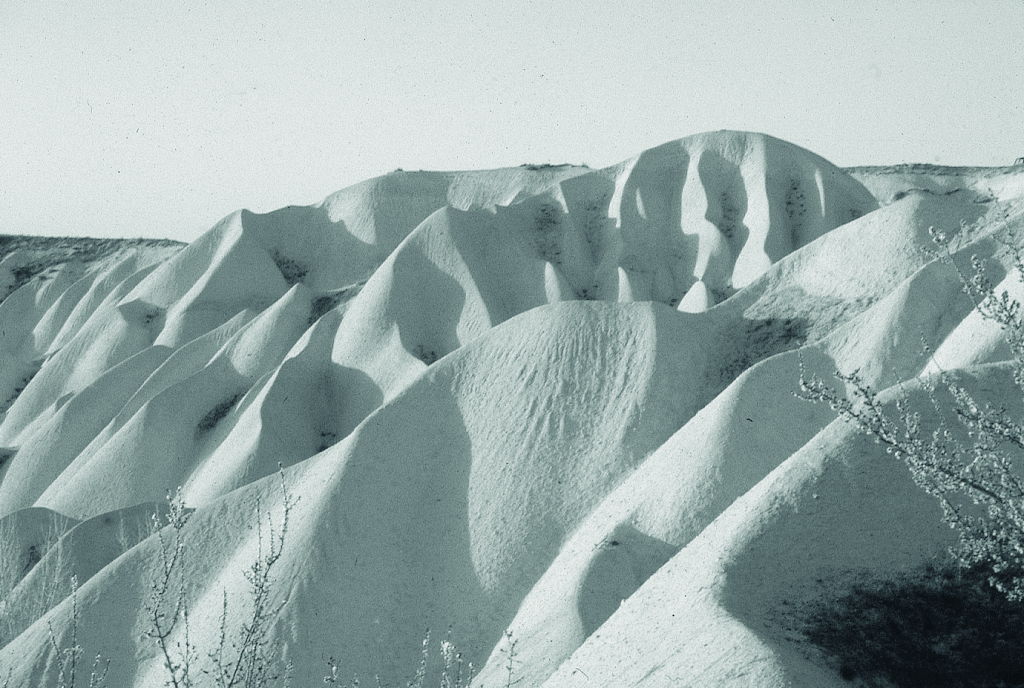 In Turkish, the Badlands, also known as Kirgibayir, is recognised for its fantastic weaving rock formations. It has been carved by millions of years of erosion, the rest of Cappadocia, and looks like a beautiful garden of fairy chimneys. The fairy chimneys here are wider and have bigger caps than at other similar locations in the region.
8. Amazing Valleys of Cappadocia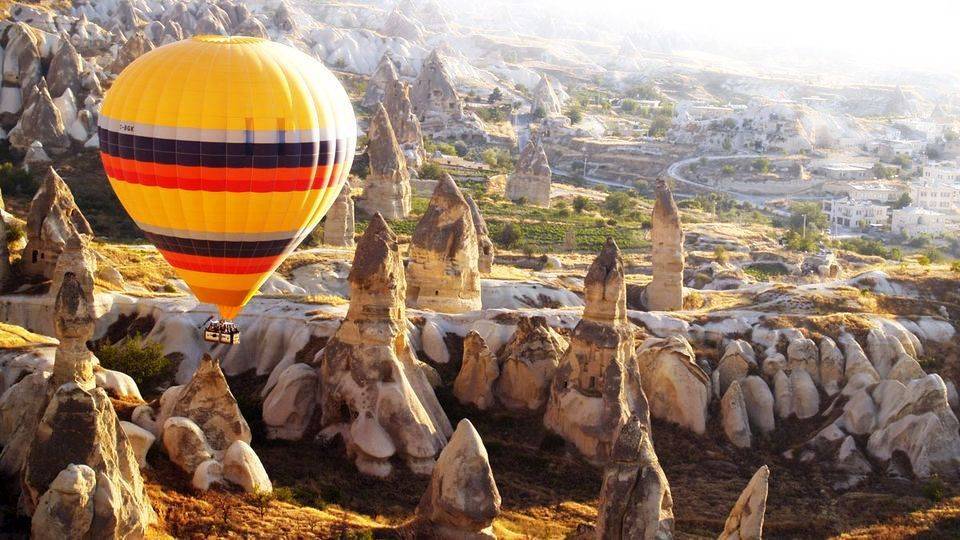 Cappadocia has roughly 70 magnificent valleys in total. Some are dried-up river valleys, while others were produced by erosion, and yet others have rivers running through them. While fairy chimneys may be found in practically all of these valleys, some, such as Ihlara, have something unique to offer. The valley, which has a river running through it, is one of the most natural locations to visit, providing fresh air and unspoiled natural beauty.
The majority of Cappadocia's valleys formerly contained a human population. On the valley walls of the region's valleys, rock-cut churches and homes are common. As a result, they are historically significant and a hiking paradise in the area.
Cappadocia has several fairy chimneys and landscapes. Apply for a Turkish visa online and plan your Turkey vacation to include these attractions that will save your trip from being too expensive.