God created man, man created Turkey, and Turkey created cuisines that cannot be considered sinful. Turkish dishes have been cluttering the menus of restaurants worldwide, rich and flavorful but not very hot. The Ottoman cuisine is a classic Turkish meal menu famed for its meat-filled skewers, but there's a lot more to it than that. Whether it's the main course, sweets, appetisers, or juices, Turkish cuisine will delight your taste in such a way that you'll not only be surprised but also desire more. As a result, we've compiled a broad buffet from the vast world of Turkish delights for you to choose from. There's more to Turkish cuisine than koftas, kebabs, and doner kebabs. You will like their flavour, but you may not be able to pronounce the cuisines' names.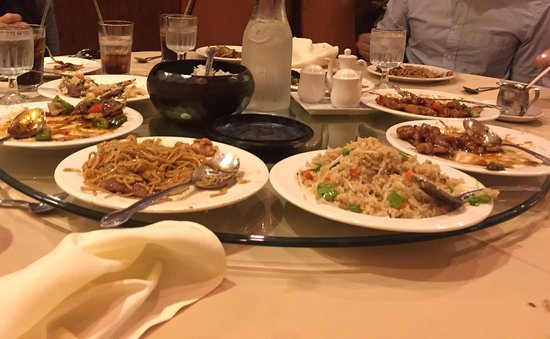 Apply for a Turkish visa online and make your stay in Turkey a foodie adventure by indulging in these delicious treats. Before you sit down in a quiet café and start ordering, have a look at what's on offer in terms of the best Turkish traditional food.
Mantı: Mini Ravioli
Imagine mini raviolis filled with meat! Mant consists of boiled or fried beef/lamb dumplings seasoned with a variety of spices. It is the Turkish version of Italian meals that you will undoubtedly like. The seasoned ground beef will melt in your tongue, and the garlic tomato sauce will complement the raviolis perfectly. It is a classic Turkish meal that is lovingly prepared in every home. In India, this is a popular Turkish dish.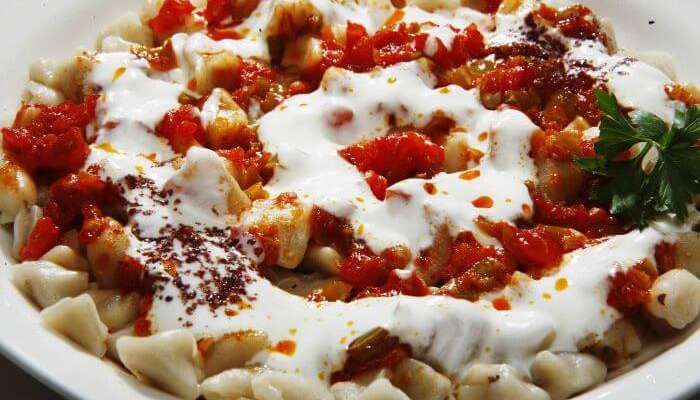 2. Köfte: Turk's Meatballs
If the Italians have meatballs, the Turks have kofte. Köfte are balls or patties composed of lightly cooked ground beef or lamb in the Turkish variant of meatballs. It's frequently served in wraps with salad and pita bread. You may even order vegetarian Turkish cuisine prepared with chickpeas and veggies. Every Turkish family must have kofte on hand. As a result, it can be found in every street deli and home.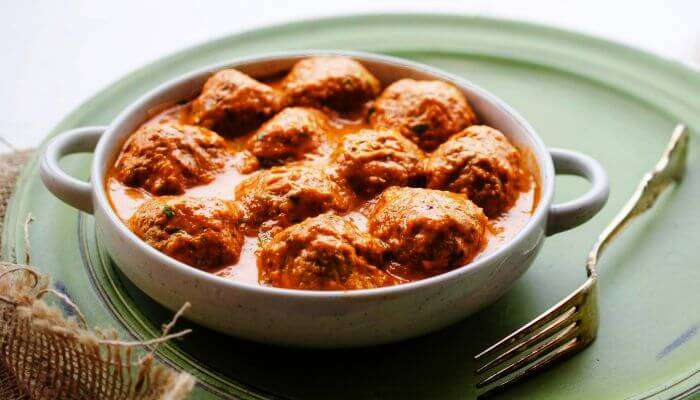 3. Lahmacun: Turkish Style Pizza
Lahmacun is a flat, crispy bread that may be wrapped, folded in half, or torn apart to consume with a topping of minced meat, salad, and lemon juice. The Turkish version of pizza is bursting with flavour. The Mediterranean spices and minced lamb are throwing a party in your mouth. It is a popular Turkish street snack that can be found throughout the country. So, on your next vacation to Turkey, you should give this a try. So, apply for a tourist turkey visa now.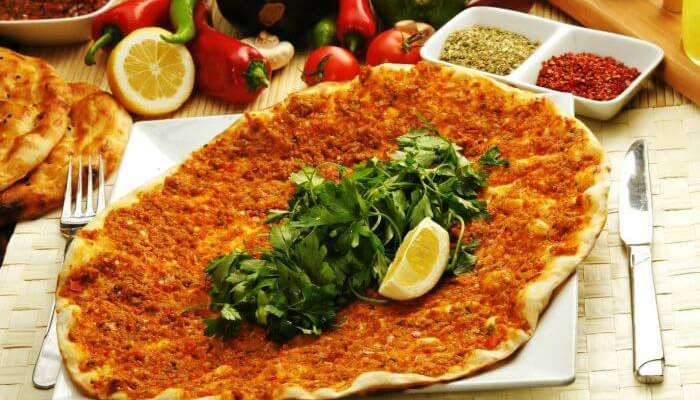 4. Menemen: Turkish Egg Delicacy
Menemen is a quick breakfast dish made with scrambled eggs and sautéed veggies that is seldom featured on restaurant menus. Menemen is the place to go if you want to know how Turkish people eat their eggs. It's essentially scrambled eggs with onions, peppers, paprika, and oregano heated slowly. It's identical to Shakshouka, with the exception that eggs are beaten in this dish.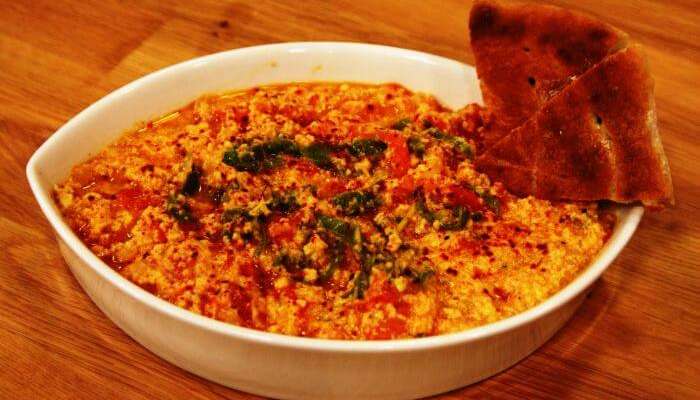 5. Corba: Turkish Soup
A normal soup recipe using lentils or tomatoes as options. Try it with a soup made from sheep brains or tongues if you're feeling brave. Soups are a big deal in Turkey. So, when you're on vacation in Turkey, you should give this a try. Since Soup is all about a comfortable and warm feeling in your tongue, this will quickly become your go-to comfort meal.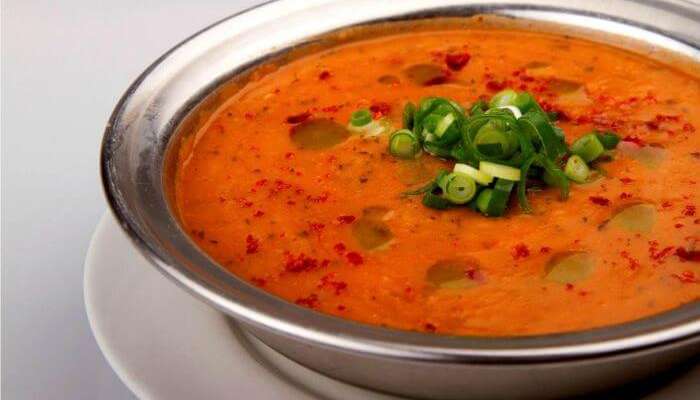 6. Dolma: Vegetarian Delicacy
Fresh or dried eggplants, peppers, tomatoes, or zucchinis are packed with a rice and onion mixture before being cooked in butter and water. Typically, they are served at room temperature. It's a popular Mediterranean food that may be found in places other than Turkey. This meal is thought to have been created in the Ottoman Topkapi Palace in the 17th century.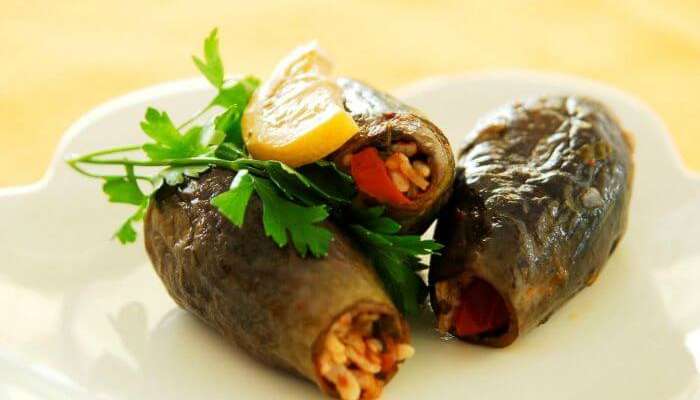 7. Borek: Spinach Or Meat Puffs
This Turkish pastry is packed with minced beef or spinach and cheese and is always flaky and tasty. It may be rolled, stacked like lasagna, or served as puffs. It's a popular meal throughout the Balkans, the Levant, and the Mediterranean. This flaky pastry can be made entirely in a pan or as little individual pastries. The sesame seeds placed on top give the meal a silly taste. The dish originates from the Classical Era and contains the essential ingredients of Turkish cuisine.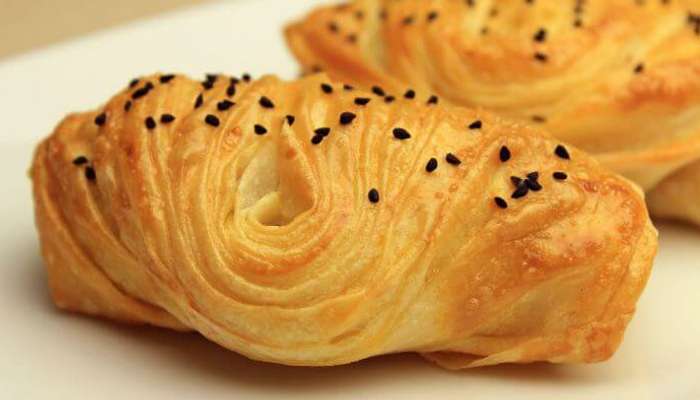 8. Lokum: Yummy Jellies
This nougaty delicacy, also known as Turkish Delight, is a hard jelly-like cube flavoured with rosewater, lemon, or mastic and sprinkled with powdered sugar. However, there are numerous varieties offered around Turkey during the festival season in July. It's a true honour to sample this dish at the area where it was created. Because of how wonderful it is, many even carry back boxes of balaclava as a souvenir.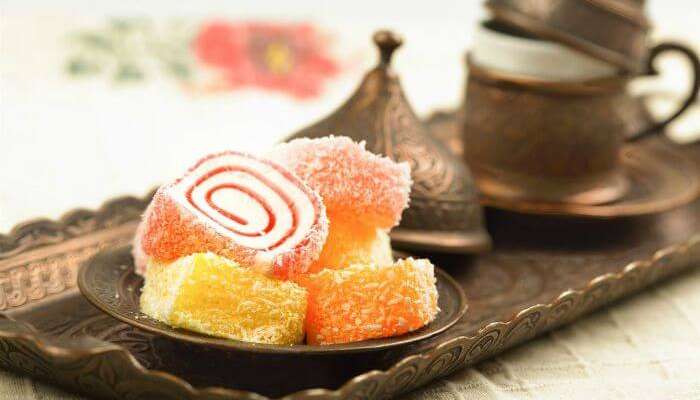 9. Mozzaik Pasta: Chocolate Cake
Mozzaik Pasta is similar to a chocolate dessert with broken biscuits. It is one of the most delicious and creative Turkish dishes, and it can be found in virtually any café. This is a meal that almost every Turkish mother prepares for her children, and it is shown in nearly every pastry store in Turkey. As a result, you should try what all the fuss is about. This no-bake dessert will make you fall in love with it. That is a guarantee!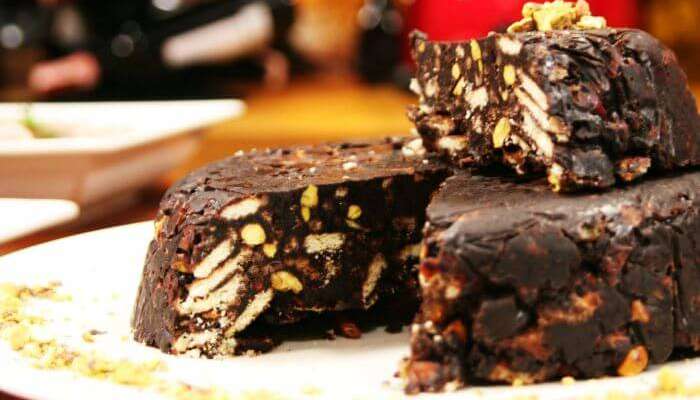 10. Turkish Tea & Coffee: A Delightful Beverage
You've probably seen videos of Turkish brewmasters brewing coffee on hot sand on Instagram. If you're interested in learning more, try this Turkish street food beverage. Turkish coffee is thicker, has a more robust flavour, and is served in a small cup. Turkish teas, on the other hand, have a distinctive flavour and fragrance. Tea is an important element of Turkish cuisine. As a result, you must enjoy a traditional vacation experience.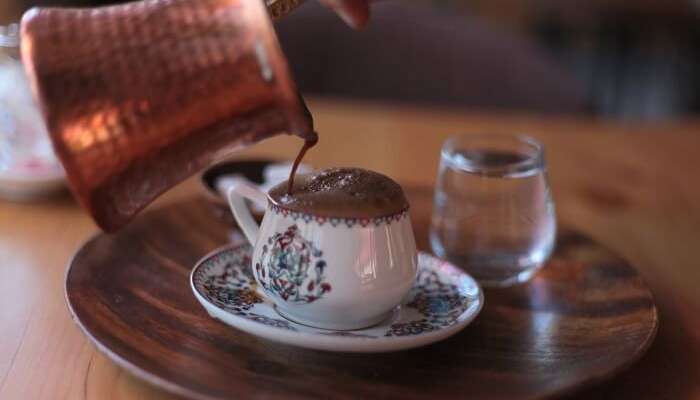 Have you just drooled? It was challenging to keep my mouth dry when creating this list of Turkish cuisine. Is it just me that notices a solid resemblance to Indian cuisine? Apply for your turkey visa and on your next journey to Turkey, a lovely country to visit, try all these delights.